I have memories of my childhood from age 3 and as far I can remember I have been an animal lover. It was like I was born that way. I preferred being in kennels with dogs than playing with my sisters or friends!
My first dog, Snoopy, was a cross between a Pomeranian and a Doberman and he was my life. When I was 7, he was run over by a truck and I didn't eat food for 3 days and I cried all night. It was the first time I ever felt loss and I mourned for that loss. As I grew up, I was always in charge of feeding the dogs,   bathing them. I loved getting all wet and soapy with them! It was far more fun than a regular boring chore! Most times, after I was done with my dogs, I would go to my neighbour's dogs to wash them, cut their hair and take care of them! I remember, my relatives used to wait for my holidays so I could take care of their dogs too!!!
As I finished my schooling, I had to go to Bangalore for my higher studies. I missed my doggies greatly. Though college was fun, I used to run home at least once a month to spend time with my doggies. During my 5 years in Mount Carmel college, I managed to make friends with all the stray dogs in our campus and I used to serve myself extra food to feed all of them! We were not allowed to keep any pets in our hostel rooms, but because the sisters and warden knew how crazy I was about pets, I was allowed to keep a fish bowl in my room!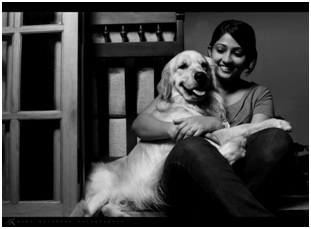 Soon it was time to choose a career. Animals were always my passion, my weakness, my strength, but I decided to choose a career in clothing and retail – my second passion.  I even did my Masters' in apparel technology and management and worked in companies such as Gokaldas Images, Raymond and finally with Indus League in charge of branding and marketing. After 5 years of wearing formals and high heels and attending meetings, I decided to quit my corporate job and take the plunge.
Although my family was full of animal lovers, I married into a completely opposite family. They were quite amazed at how I could treat animals as my family and give equal importance to them. It took me six months to convince my husband to get me dog! It was difficult as I stayed in a joint family and had to get everyone's consent. On the eve of Christmas, I decided to gift myself a gorgeous Golden Retriever. it was not easy convincing my new family about having a dog inside the house and treating him as an equal. There were fights and tears, but I guess they finally realized how I felt and they decided to make the adjustment.
My husband was always very supportive about me starting something on my own. But it took me almost a year to convince him about going for a professional pet-grooming course. The course was expensive and there was a course both in aboard and in Bangalore. Since we had been married fairly recently, I decided to pursue the course in Bangalore. Although I had my apprehensions about doing the couse (I mean how hard can it be), I went ahead with him. In hindsight, I am so glad I completed the course because there was so much to learn! The course was for a month but I worked with them for 3 months till I figured out a space for my own salon.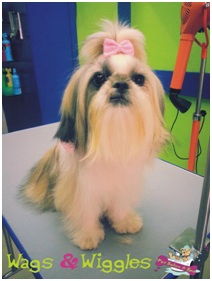 Finally, I decided on a store in koramangala, which I was satisfied with. It was a small place, but I didn't really need a big one as I had decided I would work on appointments only and I would only cater to one dog at a time so that each of them was given personal attention.
It helped that my husband worked in the interiors field because he designed my salon. I wanted to use vibrant colours and make my salon a fun place for both the pets and the parents! I decided to name my salon Wags & Wiggles Pet Salon!
On November 28th, 2012, Wags & Wiggles was officially open! We have a few strict policies like no sedating or muzzling dogs no matter how difficult they are. We disinfect all the tools and equipment after each dog for the sake of hygiene. All dogs get a free treat bag, a name tag and free accessories after every grooming session!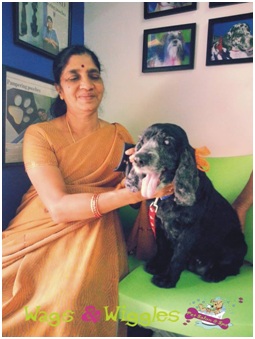 Most clients tell me that their dogs are very eager Wags & Wiggles. They start barking and get excited as they enter the road to our salon! Most of the doggies even know where we keep our treats and they demand one before and after the grooming session : )
In April last year, I lost my 3-month-old daughter and I was in no mood to go back to work and continue my passion post this tragedy. I was on the verge of giving up my passion due to constant nagging from my relatives saying that I lost my daughter because of my work (although I knew this was not true, it still affected me terribly). Constant coaxing and support from my husband ensured I did get back and that has helped me move on and look at life more positively. It was around that time that I heard about an International Dog Grooming competition that was being held in Pune. There were 18 other groomers from across the country and I didn't think I had a shot at winning. Nevertheless, I entered the competition because for me, it was a make or break situation. As fate would have it, I won the best-in-class category on the first day and I went on to win the best-in-show category in the final event! This made realize that I should follow my passion no matter.
It has now been almost three years and we've been privileged to be trusted by more than 1000 pet parents across Bangalore!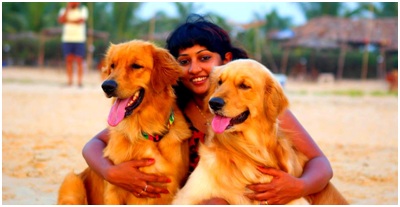 Ashita Mathew

Founder – Wags & Wiggles Pet Salon & spa

fb.com/wagsandwigglespetsalon