As a student, starting a venture was always burning inside my heart. I started working in Dell not knowing what to do, but that's when I saw a lot of people throwing away or just dumping their high-end gadgets just because of some minor problems. They didn't realize most of these problems were repairable and most of these devices end up in landfills as e-waste, which is a major threat to mother earth. That's when I realized there was a gap in this segment.
I started doing the ground work and rented a small place in S.P. road, Bangalore (with my small savings), which is considered the Gadget HUB of the city. I decided to quit my job and get into this full time. When I informed my family that I was going to quit, they couldn't understand it because I'm from a family where most people are from a business background and they always thought it was a tough path to take and so they wanted me to settle down in a job. What they didn't realize was that when they started the business it was out of compulsion. So the whole family went against me and they also thought I have lost my mind and said they will never support it.
But the burning desire to do something meaningful was so high that I went against their words and did what I wanted anyway.
The initial days were not too good as there were no customers coming to our shop because the concept of 'marketing' was alien to me. There were day I used to be completely bankrupt. The neighboring shops also saw me as a potential threat and they somehow wanted me to close the service center.
But what kept me going was passion. A year went by and we had picked up a little by then and at the end of the year it felt really worthwhile as we had done some decent business. But more than that, our few customers were very happy because they always thought their gadgets would never work again or even if they got it repaired, it would cost them a bomb. We were able to fix it for them at very reasonable prices.
Today, NETZ is 4 years old and we have got a very good number of customers. More importantly, we have stopped a lot of devices ending up in landfills.
After the success of NETZ, I have started another venture called 'Leafy Plates' to reduce the plastic dumps. We make stylish-looking disposable dinnerware made from naturally fallen palm leaves, which is usually burnt as agricultural waste. Also, there are a lot of health issues by using plastic, colored-paper plates and styrofoam or thermocol plates.
I believe that someday we will all come to a point where we take good care of our natural resources rather than abusing and generating harmful waste.
The whole journey has been a learning experience for me. Sometimes business may not go as planned but in the end whether you win or lose,  the feeling that you get by doing something meaningful, which you like and which is helping people around you, can't be described by words.
If you really have a burning desire to do something then you should go for it. The end result can be anything, it doesn't matter. What really matters is the whole journey.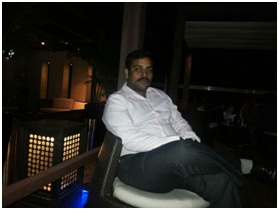 Karthik Shetty
Founder, Leafy Plates