This is the first time I'm writing about myself and about a phase in my life where I have seen myself transform from an aimless teenager to a philanthropically active person whose priorities have changed over the last 2 decades. As an average teenager, the goal was to get through class 10 and 12 and get into a college. Coming from a typical Gujrati business family, education was not given too much importance because my dad always insisted I join his shop without further education. Fortunately, my mom thought otherwise, and insisted I study further.

This just resulted in me being terribly confused about my future and after my graduation, much against my father's wishes, I took up a job. As time passed, I got engrossed in the corporate world, moved cities and I became a typical corporate executive who aspired to be CEO someday. With time, as the promotions increased, I moved to Kenya and then to Afghanistan. I did not really think twice about taking up the role in a telecommunications company based out of Kabul.

Afghanistan was where I changed. The way I looked at life changed. Being in a war zone, you are not sure if you are even going to get back home alive after a day at work, even though we had exceptional security arrangement. I was working for Roshan Telecom, a subsidiary of Aga Khan Foundation, which is one of the world's largest philanthropic organizations.

As a part of my role at Roshan, I spearheaded the "Malomaat "campaign, educating poor farmers on how to strategize selling their wares to intermediaries. We launched a mobile voice app, where farmers would get the cost of the crops from various markets, helping them get a good price for the crop, eliminating the middlemen. We also launched mobile helplines to attend to and fix faulty water pumps in the most remote parts of Afghanistan.

Our CSR team ran a school called Achiana for the kids affected by the war in Afghanistan. Initially, I was reluctant about going out of sheer laziness. One weekend, I happened to go with a few colleagues. It was my birthday and I thought it would be a great way to celebrate it by distributing sweets and cake to the kids. But one visit was all it took. I became a regular and I started teaching Maths and English. That was when I realized there was so much more to life besides the corporate rat race. Seeing the kids smile when they cracked a math problem or hearing them say a full sentence in English without any mistakes, made me happier than little else ever had.

I was actively involved with Achiana for more than a year. And thus I decided to get back home, and make a difference to the country I come from. Along with a few likeminded friends, Tatya Global foundation was formed.

Tatya Global Foundation is a registered non-profit organization working to alleviate human suffering for children and older persons from underprivileged backgrounds. Established in Bangalore in 2013, at TATYA Foundation we offer a host of facilities to make life more comfortable for the lesser privileged. We identified orphanages and schools for the physically-challenged and distributed blankets and warm clothes to help more than 300 students brave the challenges of the winter. We identified 5 other schools for underprivileged children, and distributed books, money for school fees and school uniforms to about 450 children. In July 2014, we will be starting a medical clinic in North Bangalore that will provide healthcare to those who cannot afford it, at subsidized cost.

In hindsight, this was probably one of the best decisions I have ever made. And I'm just looking forward to every new day.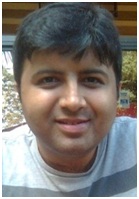 Ritesh Pandya
Managing Trustee
Tatya Global Foundation