I was the Central Control Engineer for Toyota's only India plant in Bangalore. I gave it up and started living my life as an artist. Self-taught, started from scratch and now I have worked with most of India's leading art and music festivals. My works have also been published worldwide.
Toyota made it clear about what I did NOT want to do with my life. When I quit my cushiony, well-paying job 4 years ago, I didn't really have any plans. All I knew was that I have always been good with my hands.  After a couple months of travelling and soul-searching, I subconsciously started thinking taking up 'art' as a serious career route. One thing led to another and I ended up learning photoshop while sitting in my room relentlessly for 16 hours a day, for about 3 months. I took up small projects to pay the bills and to see if I was ready for the real world!
It was clear I was doing alright and I was headed in the right direction, but work isn't very easy when you're not connected to people who're doing what you are doing. I had no circle of art/design friends since I never went to an art school and none in my inner circle of family and friends came from that background either. I had to go out and talk to anyone and everyone to finally land a project. My parents still aren't fully supportive of what I do, and they're not wrong. Toyota is, after all, the world's No.1 automotive company and their pay matched their name! To leave all that to suddenly become an artist isn't an easy pill to swallow.
The journey has been tough and it continues to be. India still doesn't have the maturity to deal with art and artists. When it comes to the pay, everyone wants to get it for free or for cheap. I've worked with the smallest individual startups to India's biggest names and sadly most of them do not respect artists. But the important thing is, I enjoy my work and that's what keeps me going.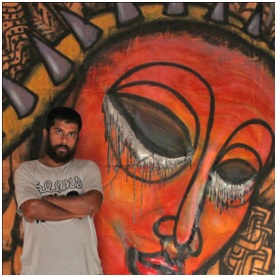 Vinay Pateel
Artist