Since childhood, I was an "outstanding student" in school. I was standing outside class perpetually because I asked my teachers too many questions.
From when I can remember, I had one big issue.  I believe I have some problem in my spine.  It just refuses to bend.  I couldn't compromise with things that I wasn't able to reason with. I passed out of school with a mere 70%, I never aspired to become an engineer or a doctor. I wasn't even I'd make an obedient employee because I could not be manipulated.  So I took up a humble bachelor's degree in a government college. I mean why spend lacs of your parent's money on something that you aren't sure you'll even like?
I passed out of college with an average 2nd class certification and a job was already waiting for me in Anagram investments, where my uncle was the branch manager. I was sure I didn't want to be a parasite for my dad and so I decided to take up the job. As a year went by, I really got interested in the dynamics of global economics.  It was in the year 2000 that I started my share-trading career and BINGO, there came the IT and .COM crash! Thanks to Mr. Alan Greenspan, the honorable chairman of the FED, US, for timing it perfectly with my entry into the market.
There is a famous saying that most investment-oriented people know, which is "If you are smart enough to survive a couple of years without being bankrupt, you would find yourself at the top at the end of your journey".  It was very true in my life and starting from 2004 all the way to 2007, I had hat-trick years of profit-making! By the end of 2007, I have already migrated from Anagram to Reliance MF and then to Religaire, as the Regional Fund Manager for Commodities.
Then came the 2008 crash, triggered by the avalanche of global banks.  I did lose a lot of money, but that was only about half the profit I had churned out in the last few years. But as the year passed, I was feeling empty inside and I decided to take a break. I was really tired of staring at numbers all day and attending to phone calls while continuously advising people on strategies. I reached the point where I decided enough was enough. I told my boss that I was taking for a one month vacation and that if he didn't grant it, I would hand in my resignation. He had no choice, and sanctioned my leave!
One backpack with 3 jeans, a sleeping bag, a few tees, an India Roadguide and my camera – that's all I needed. I filled my bike and headed to NH7.  I wasn't sure where I was heading to.  In 6 days, I was in Chandigarh and over the next 5 days, I crossed Manali and ventured into the Spiti Valley in Himachal Pradesh – a cold desert, which was a little Tibet in India. No village had a population of more than 50 houses and the next village was at least 30 kms away. That was the actual game changer. That was when I remembered how I was in school and the same old "spine problem" came to mind. How beautiful would life be if all you needed to worry about was your next meal instead of manipulated global markets, insider trades, corporate honchos, CEO bluffs et al?  The mighty Himalayas, which were whitewashed every winter, the simple huts, the modest dinners and the honest and greedless people. I felt like I was born again. That was the time I went back to the grassroots of life where satisfaction means much more than paper currencies, gold, silver and debt bonds. How beautiful would it be to show people what I've enjoyed, for I was sure almost every poor soul in every city had been living a life similar to mine? Even though I might not be able to get people to change their lifestyles complete, I could at least show them a glimpse of what happiness was, couldn't I? I travelled back through the villages of Madhya Pradesh and Andhra Pradesh and returned home after 42 days.
After coming back home, the first thing I did was put down my papers. I had a fairly good manager who was never a monster to me and even he couldn't get me to change my mind. I started reading on eco-tourism and in less than a month I registered my sole proprietary firm Uncharted Holidays.
We setup a co-operative farm in a village called Semmanthittu on the foothills of Kanjamalai in Salem.  Even though the production is not massive, we are happy because we have produced food without a drop of pesticide or a gram of artificial fertilizer. I started taking people on tours to our farm to let them experience natural life and enjoy the bliss of community living. Then I moved on to taking school children on eco-tours to small bird sanctuaries and jungles in close proximity to the town and showed them there is actually a life out there that's far better than the one in a congested concrete jungle.
It has been 6 years and the farms and the number of tours we organize are steadily increasing. We are at a level of contributing a part of our profits to the welfare of the local people living in our eco-tourist destinations too. We encourage city-dwelling people to choose home-stays in the villages while relishing their home-made food. We make our clients plant trees and help farmers in their fields. We encourage bio-organic food habits, promote biking, hiking and tenting and today we are involved in a wide array of eco-solutions for healthy and sustainable living.  We are also in the process of starting a local organic store selling organic grains and millets from organic farmers directly.
Though it has been a life of extremes, at the end of the day, I sleep with a smile on my face and relish every meal that I eat. I have been able to prove the fact that eco-ventures are actually big money where you can make sustainable growth without screwing your fellow humans, killing for a living and helping nature continue its endless journey of a beautiful phenomenon called life.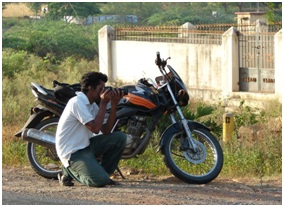 Madhu Ulysses
Founder, Uncharted Holidays