Dear Readers,
I am mighty kicked about this particular issue of Chatterpillar. As you read the 8 entrepreneurial journeys in this edition, you'll understand why!
It's never easy to leave a comfortable, high-paying corporate job to become an entrepreneur. Much less to become an entrepreneur whose primary goal is to do something good for society and touch people's lives. There are many factors that could stop you from pursuing the "social entrepreneurship" route – the monies are dicey and the market is unexplored, but primarily, there is usually little or no support offered to the entrepreneur from his family – emotionally (not financially).
This is not to say they're wrong. Your family only has your best interest at heart. And you can't really blame them for wondering which rock you hit your head against when you tell them that you're planning to leave that fancy corner office to become an entrepreneur.
As you read the stories in this edition, you'll realize how some families have come around, how some are still struggling to cope, while others refuse to accept it. But none of this has deterred the entrepreneur and they've gone ahead with their passion full throttle.
It's always delightful to meet such entrepreneurs. I hope you all enjoy reading this issue as much as I enjoyed putting it together.
Happy reading!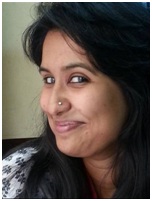 Medini Mangala
Director, CARMa
Sports Addict | Food lover | Avid Reader | Chatterbox | Struggling Belly Dancer | Basically extremist